Opatija is the largest city on the eastern coast of Istria, centrally located on the northern part of the Croatian Adriatic Sea along the so-called Kvarner Bay.

The unique city shines with quiet elegance and sumptuous beauty. Opatija's villas and buildings of exceptional architectural value, surrounded by the evergreen mountain Učka, healing sea and beautifully arranged parks, have perfectly combined the modern spirit and the benefits of a top tourist offer. An almost 12 kilometers long promenade alongside the sea, the famous Opatija "lungomare", stretch along the Opatija coastline from Volosko to Lovran and gives a particular charm to the city and its riviera.
Because of its unique climate and temperature, Opatija is attractive not only in the hot summer months when offering refreshment, but in the winter as well, with its mild and warm temperatures because of which it was a popular resort among Austrian aristocracy since 19th century!
TRAVEL CONNECTIONS:
By air (airports):
Rijeka (Krk) – 45km
Zagreb – 200km
Pula – 96km
Ljubljana – 127km
Trieste (Ronchi) – 110km
Venezia – 250km
By train (stations):
Rijeka – 14km
Matulji – 4km
By road (main traffic directions):
Rijeka-Zagreb-Budapest – 558km
Opatija-Ljubljana-Klagenfurt-Salzburg-Muenchen – 571km
Opatija-Ljubljana-Gratz-Wien – 520km
Opatija-Trieste-Venezia – 232km
By sea (ports):
Rijeka – 14km
Remisens Premium Hotel Ambasador/Villa Amasador *****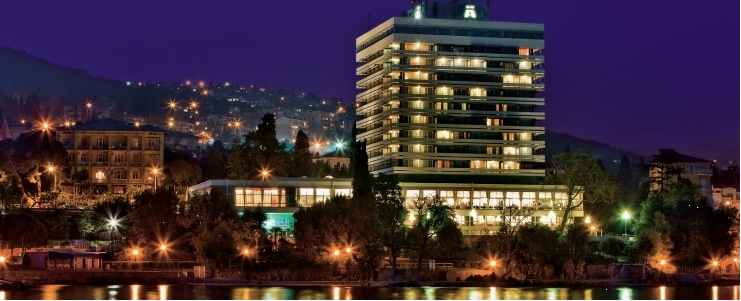 The Ambasador hotel has a central location near Opatija's city center, but still maintains its privacy. It is situated above the private beach and Lungomare, a 12 kilometer promenade on the coast of the Adriatic Sea. During hot summer days, escape to the beach or outdoor swimming pool, ideal for soaking up the sun.
Remisens Premium & Romantic Villa Ambasador is directly connected to Hotel Ambasador and provides free access to all its facilities. The villa enjoys a peaceful setting above the coastline promenade. Participants can request accomodation ain hotel or Villa Ambasador, keeping in mind that the possibilites of accomodation are in accordance to the hotel availability.
ACCOMMODATION:
Remisens Premium Hotel Ambasador has 200 rooms and suites that are fully air-conditioned, wireless internet (Wi-Fi Hotspot, no additional charge), public parking, hotel car park, underground garage (limited parking spaces, additional fee applies), entrance for disabled.
RECREATION:
Private beach area, Fitness centre, Games room, Solarium, Spa and wellness centre, Massage, Hot tub, Turkish/steam bath, Indoor pool (all year), Entertainment staff.
RESTAURANT:
Hotel Ambasador offers a dining experience that is nothing short of magnificent. Hommedae pastas and seafood dishes with the freshest fish from Kvarner Bay highlight can be found on the menu at Hortenzija, the outdoor summer garden restaurant. At La Fourchette D'Or, the hotel's indoor restaurant, Chef Capan continues his superb style with more local appetizing delights and special show cooking. A new, large buffet has also been added to the restaurant.